Leandros
Cade knows Sairah is his mate, but she's been raised on Earth with no knowledge of her heritage. How's he going to convince her he's her mate when she doesn't even know she's an alien lion shapeshifter?
When Matt meets Stacey he realizes his mate's been right under his nose this whole time. But a man with a past like his and no future doesn't deserve the love of a woman like her. If only the sexy, stubborn woman would take no for an answer.
Jacob finds himself on trial for a crime he hasn't committed... yet. Even worse? With his mate under suspicion only one thing can save them now. The whole truth.
This book contains the previously released novellas: Sairah's Salvation, Matthew's Redemption, Dana's Release.

Suffering Sassafras
When Gayle settles into her new home in the mountains of Northern Pennsylvania she meets two of the sexiest men she's ever seen. These two have a sex appeal she can't resist -- until she stumbles upon them making love in their backyard.
This book has been re-released in a collection: Big, Blooming & Wild Vol. l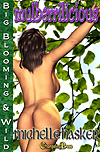 Mulberrilicious
After losing her job to the economy and her fiance to a skinny chick, Trisha moves to Missouri, where she runs into two handsome hunks who own a neighboring property. Both men want her, and neither cares that she's a BBW. What she doesn't know is that they're not what they appear to be. Oh, and they're already lovers.
This book has been re-released in a collection: Big, Blooming & Wild Vol. 2